Iowa State University's Transportation Student Association
2019 SPRING REPORT
Induction of the 2018-2019 Transportation Student Association Executive Board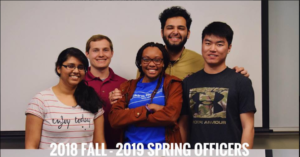 From left to right: Archana Venkatachalapathy (Treasurer), Bryce Hallmark (Social Chair), Brianna Lawton (Vice President), Hitesh Chawla (President), and Chao Zhou (Membership Chair)
CHAPTER ACTIVITIES
R Workshop Event 1 – Saturday, October 20th  
At the request of several TSA members, a series of informative, hands-on technical sessions were scheduled during this fall semester, including a multi-day R workshop that was conducted by Ashirwad Barnwal, a second-year Ph.D. student in the Department of Civil, Construction, and Environmental Engineering (CCEE) at Iowa State University. He graduated with a master's degree in civil engineering in the summer of 2017 and later joined the research group of Dr. Anuj Sharma to work in the area of transportation data analytics. Barnwal has been using R as his primary data analysis tool for more than two years. Along the way, he has completed numerous certifications on R from e-learning platforms such as LinkedIn Learning and DataCamp to hone his skills. The session started with introductory material about R syntax and conditionals, talking about the basic mathematical functions in R, vectors and matrices and how to load different packages in R. He also talked about data manipulation using commands such as "Select", "Filter" and "Arrange".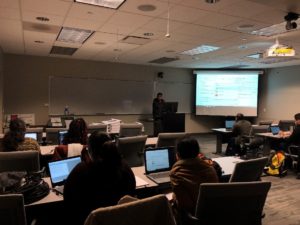 TSA members in R Workshop
Speaker Event – Wednesday, October 24th 
The first speaker event of the fall semester was by Joel Wright, President and CEO of Mobotrex. Mobotrex is a 200-person company which produces everything from traffic signals to intersection control cabinets and monitoring systems to pedestrian crossings and much more and is headquartered in Davenport, Iowa. Joel presented on "Advancing Connected Vehicle Technology in Iowa and Beyond". He talked about the different technologies that his company has been working on in Iowa and the implementation of those techniques. TSA faculty advisor, Dr. Anuj Sharma was also present during the event and gave an introduction about the project that he had been working on with Mobotrex. The session concluded with few people from the audience asking questions about the same.
R Workshop Event 2 – Saturday, November 3rd
This workshop was the second event hosted by Barnwal on the application of R within a transportation context. The event was requested by TSA members along with outside student attendees with interests in transportation, computer science, and statistics alike. This was a continuation of the first workshop event, which was conducted two weeks prior. It focused on data visualization, importing files, creating graphs such as scatter plots, bar charts, line charts and histograms and how to enhance these plots.
TSA and InTrans Joint Speaker Event – Friday, April 5th
TSA hosted a joint speaker event with Intrans during one of their MTC seminars. The speakers, Tyler Wiles and Chase Cutler of HR Green, Inc. presented one of their projects with Iowa DOT titled "TEAP Studies – Traffic Engineering Assistance Program". The speakers talked about two of their TEAP studies, one in the city of Marion in 2018 and another in Polk City in 2014. They gave a brief overview of these projects and explained some primary concerns of the study and the methodology that they adopted to tackle these issues. They also described some short-term and long-term recommendations that they provided to Iowa DOT.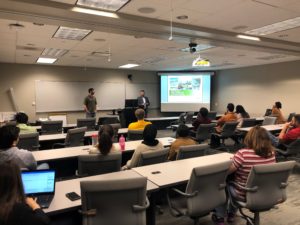 TSA members in Joint Speaker Event with InTrans
SOCIAL EVENTS
TSA and ICITE Joint Meeting – Tuesday, November 13th
As mentioned earlier, TSA hosts a joint meeting every semester with ICITE to strengthen social ties with the professional-based ITE organization. Last fall, TSA decided to do it differently and more socially by inviting TSA and ICITE members for a game of bowling. Many TSA members joined the event. In addition to that, John Davis, Chair of ITE Midwestern District Student Activities Committee and MWITE Collegiate Traffic Bowl Committee, visited Iowa State University on the same day to present the winner's plaque and trophy plate to the winners of the Midwestern traffic bowl held in Minneapolis in August. He also gave a small presentation about the updates on International ITE's recent happenings and future plans.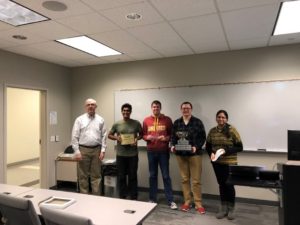 Winners of Midwestern Traffic Bowl with John Davis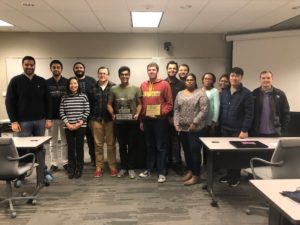 TSA and ICITE Fall Joint Meeting
Fall Game Night – Friday, December 7th 
At the end of each semester, TSA hosts a game night to relax and relieve the pressure of final exams for TSA members. The new members of TSA were introduced to the Traffic Bowl competition to encourage them to participate in the coming year. The meeting was finally concluded by playing few games such as Bingo and Pictionary and few more.
OUTREACH
Adopt-A-Highway Fall Roadside Clean-Up Event – Saturday, October 6th 
TSA members met along the roadside of County Road R38 in Iowa to volunteer their time under the Story County Adopt-A-Highway Program. This partnership with the chief Story County engineer allowed TSA members to volunteer their time to make Iowa a more beautiful place. Along this two mile stretch of country roadway, TSA members removed discarded trash and non-decomposable materials from the shoulder and roadside right-of-way for the County Engineer in exchange for a sign which recognizes their service. This is completed on a biannual basis and provides an excellent opportunity to give back to the community through an act of service.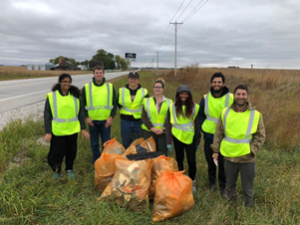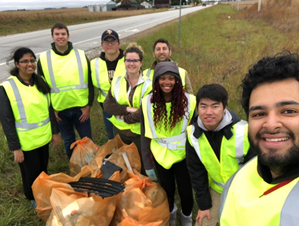 TSA members after cleaning the roadside during the Fall Roadside Clean-Up Event
Transportation Research Board ITE Annual Open House Reception – Monday, January 14th  
The Institute of Transportation Engineers (ITE) hosted an open house reception at ITE headquarters during the TRB Annual Meeting in Washington, DC. This provided an opportunity for the TSA members to meet other students from other chapters as well as network with various leaders from ITE. TSA members got a chance to talk to Bruce Belmore, the newly elected ITE International President, about the new emerging technologies in the industry. He also congratulated the organization for winning the Midwestern Traffic Bowl that happened in Minneapolis last August.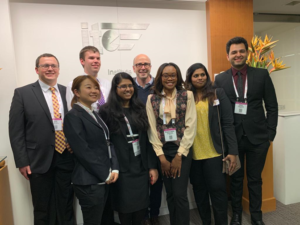 TSA members at the TRB Annual Meeting ITE Annual Open House Reception in Washington, DC
Social Media – Summer, Fall, and Spring Semesters
To keep in touch with members, alumni, and other ITE student chapters, TSA has maintained a strong presence on multiple social media platforms. Through the use of Facebook, Twitter, and two campus-based student organization websites, TSA has advertised for upcoming events and connected with fellow students. Also, the mailing list for TSA has been migrated to a more robust email system where any user can personally enroll and withdraw from the organization thread, meaning that any individual who is interested in joining TSA can sign up for emails at any time, without having to contact a board member first. Emails and flyers are always sent before events began, and pictures following the events ae typically posted to both Facebook and Twitter so they can be easily downloaded by the members in attendance.
FUNDRAISING EFFORTS
Membership Dues and Awarded Funds
Each semester, $10 is collected from every TSA member. This helps to offset the cost of meetings as every meeting has food provided. Prize money from awards allows TSA to cover important expenses like food, printing flyers, and supplies for outreach activities. These resources are critically important to recruitment efforts.
Engineering Student Council
Each semester, the ISU ESC allows engineering student organizations to make a presentation for funding based on their activities of interest. As of Spring 2017, this funding is restricted to only travel expenses, and cannot be used for registration fees or food. TSA has traditionally received about $1,000-$2,000 from the College of Engineering per semester to help fund student travel to the Transportation Research Board Annual Meeting. Supplementary support for students has also be provided by the faculty advisors.
AWARDS
Winner of the Midwestern District Collegiate Traffic Bowl
5th place in TRB Transportation Forecasting Competition
Honorable mention for TSA at Engineer's Week Awards Banquet