For their contact info go to the following page:
https://www.stuorg.iastate.edu/site/tsa/officers
2021-2022 Officers
Archana Venkatachalapathy
President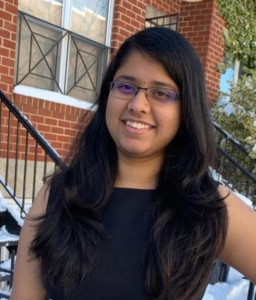 Archana Venkatachalapathy is a Ph.D. student at Iowa State specializing in Intelligent Infrastructure Engineering. As a budding Data Scientist, she is detail-oriented and extremely organized making her an invaluable asset to any team that she is a part of. When she is not yapping away about machine learning or self-driving cars you can find her passionately debating everything from governance to policy changes, to music and food. She hopes to use Data to broaden conversations and perspectives on the gender gap, and other social issues that plague modern societies. Being in charge is not new to her and now, after productive years as TSA's treasurer, she is all set to take charge as the President. Archana is committed to building a strong diverse community of TSA members and promises to bring to the table creativity, inclusion, and a number of exciting events.
Dorcas Okaidjah
Treasurer
Dorcas Okaidjah is currently a Civil Engineering Ph.D. student with a research interest in Traffic Operations and Transportation Planning. She holds a double master's from Iowa State University where she pursued Transportation Engineering and Community and Regional Planning. Dorcas is from Ghana where she received her bachelor's degree in Civil Engineering at the Kwame Nkrumah University of Science and Technology. During her undergraduate studies, Dorcas was the Trade and Technology Chairperson for the Civil Engineering Department where she organized and motivated teams to come up with innovative science projects that were showcased to the public. This experience makes Dorcas an excellent addition to the team. She also has 5 years of experience working as a structural/construction engineer which has contributed to her detailed oriented and time conscious nature. Dorcas's goal as a TSA Treasurer is to make significant contributions to the team and creatively managing TSA's funds.